The Mission
"Final Chapter" 2008
After 18 years of being repeatedly asked "will you ever get back together with the old band?" and repeatedly answering "maybe, but it will probably never happen," I was invited to join Wayne and his band for what was to have been the last ever Mission tour. I said yes.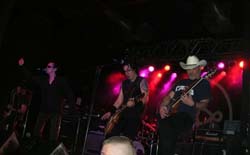 At first, the plan was to just play the final 4 nights at Shepherds Bush Empire. Then we wondered about getting-in a bit of rehearsal time prior. For a while, I was going to play the whole European tour as well. In the end, I decided on playing the last 4 European nights (in Germany) and then on to London.
It was a strange experience to be up there again, doing those songs which had once been so central to my life (ie: I'd played them countless times, but a long time ago.) But the lasting impressions I took from those 2 weeks were overwhelmingly positive.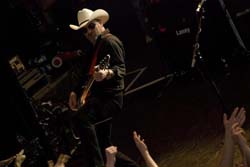 First, and perhaps most importantly, it was just great to be hanging out with Wayne again. It was the first time we'd seen each other in about 8 or 9 years, and we got on like a house on fire. Within minutes we were annoying everyone to death with our constant stream of "remember that time when..." followed by howls of laughter - at least from the two of us! Each of us remembering events the other had long forgotten.
The other thing that made it so worthwhile was to be there again in front of those AMAZING fans. I don't think it's possible for any band to have as an audience a more loyal, enthusiastic, and generally just a really nice bunch of people. Being in a band, on a stage, can be a pretty lonely place if the audience doesn't respond and give back...or 'play their part' as I call it. One of the reasons that The Mission were such a great live band (and we were!) was that the fans elevated the proceedings.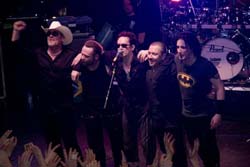 To all of you who were there, to those who bought me a drink after show, and to everyone who has supported the band over the years, I offer my most sincere gratitude.
---
---