| | |
| --- | --- |
| ARTERY - Biography 1979 - 85 | |
Artery were formed from the two remaining members of a band called "THE". I've even found a photo of the young lads... click here.
The first time I saw Artery (in 1979 I think) I was blown away. They'd just released their first single,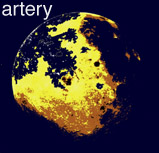 Mother Moon, and were establishing themselves on a mostly local level. I used to drive a VW van for work, and started driving Artery to gigs. One night I was playing "Oh You Pretty Things" on a piano in the dressing room, and Mark asked me to join the band, which I did, playing my Vox Continental organ. Soon after, I quit my job - the last full time job I was to have for the next 17 years.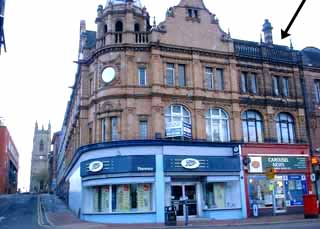 The Artery rehearsal room was above a print shop on Glossop Road, Sheffield. Fascinating huh?
We played quite frequently around the country, and attracted the attention of the music press, with several features and great reviews. Artery performances were usually pretty "edgy" - Mark and Mick could usually be expected to do something unexpected. I remember one occasion during a gig when Mark climbed out onto the ledge of a second story window overlooking a busy city square and started screaming at people in the street below. Another time we played in a corridor at an art college where they were having a student "sit-in." We all performed the second half of the set completely naked.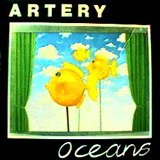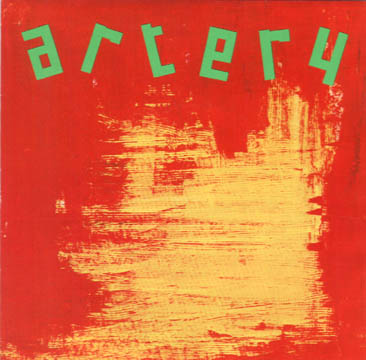 Over the course of a couple of years we released three more singles and did twoJohn Peel sessions at the BBC's Maida Vale studios. All of the tracks were released as our first album, "Oceans." During this time, I also worked on an album with Jarvis Cocker and Pulp.
Things began to disintegrate when Mick Fidler was fired for repeatedly missing rehearsals. I began playing guitar instead of keyboards, but it was obvious the chemistry was wrong, and after just a few shows I quit the band and went to (of all things) piano tuning college.
During that year, Mark collaborated with friend Chris Hendrick on a second Artery album, "One Afternoon In a Hot Air Balloon."
Here, Chris displayed his penchant for honky-tonk piano, completely changing the sound of the band. He also made it clear from the start that he had no desire to tour the album, so one night, Mark called me and we met in my car, where he played me a tape of the newly finished album... I liked it a lot.
Now with a new line-up of Mark - vocals, me - piano, my brother David Hinkler on trombone and string machine, Dave Hendrick - bass, Garry Wilson - drums, and John White ("That John White Kid") on guitar and saxophone, we did a few UK shows plus a tour of Italy - which was a terrific experience. After that, Mark and I wrote a few new songs, and demo'd them for our record company "Armageddon." But they were dubious that the piano based sound was marketable, and suggested we be a guitar band. I guess that must have been the reason I quit about that time, and went into producing and engineering.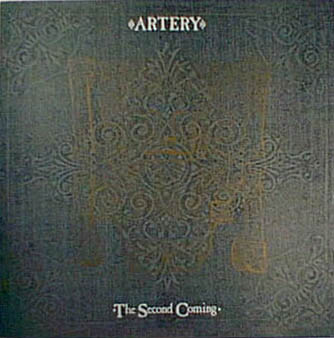 However, Mark carried on, and made a third album "The Second Coming" with Murray Fenton on guitar, Neil McKenzie - bass, and Garry Wilson - drums. This incarnation of the band was heavy, nihilistic, and pretty hard for most people to take. So eventually they decided to move in more of a hard rock direction, and wanted another guitarist. The band's manager, Tony Perrin, asked me if I was interested. At that time, Tony and I were sharing a flat on Fulwood Road, and we were both into stuff like The Stooges, MC5 and Motorhead, so I was totally up for the idea of rocking-out.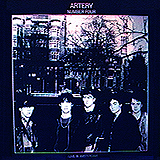 First of all Tony and I came up with a bunch of riffs at our flat - Tony always could write a good bassline, so he replaced Neil McKenzie who was not convinced this was a good idea. Everything seemed to click in the rehearsal room - it was one of those situations where everyone pretty much did their own thing, and it just worked. We got a gig at the Melkweg in Amsterdam, and did a storming show, which was recorded. We loved the tape so much that we decided to put it out as the fourth Artery album, and called it "Number 4 - Live in Amsterdam."
Mark and I had also been working on some experimental stuff outside of Artery. I think Murray felt it was interfering with the band, although I don't think it was - or maybe it was a bit - I dunno. Anyway Murray quit and moved to Leeds to join The Batfish Boys, and after a period of trying unsuccessfully to replace him, Artery folded.
But it wasn't the end of the road for the long standing partnership between Mark and myself. Now we put all our efforts into our experimental project, which eventually became known as "The Flight Commander."
Artery are featured in the 2001 documentary film, "Made in Sheffield."
Here's a clip featuring the band and here's the trailer.

Home Artery Pulp Flight Commander Mission Mindfeel email
---