My Zemaitis Story
As an early teen, discovering so much great guitar music, picking up the guitar and teaching myself to play, I first saw Ronnie Wood playing that stunning looking guitar with the shiny engraved front. Like many people, the big question was "what IS that?" Once I'd found out, I dreamed that some day I'd own a Zemaitis Metal Front.
This went on for some 10 years, until I saw one for sale in a Melody Maker advert. By this time, I was enjoying some success as lead guitarist with The Mission…in other words, I was making decent money for the first time in my life. So I called, and set-off on the train, cash in hand.
It was only when I arrived at the house, and was greeted warmly at the door that I realized the seller was Tony Zemaitis himself. He led me into his workshop, and for the first time I saw, picked up, and played a Zemaitis. Very exciting.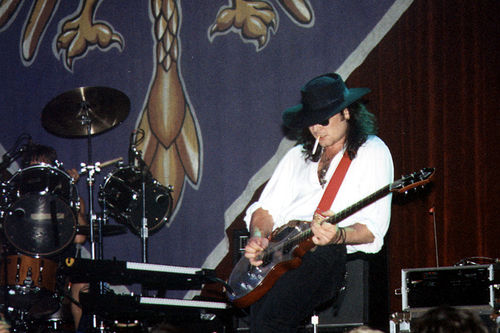 Not only did the guitar play and sound great, but there was something else. I'm sure most guitarists will know what I mean when I say that playing a really great instrument brings out an extra level of enjoyment, and confidence when playing to an audience. The Z was immediately my #1 stage guitar.
Imagine my horror when 6 months later it was stolen from a London studio where we were mixing the Carved In Sand album.
I was straight on the phone to Tony, and fortunately he was close to finishing a metal front, which I claimed right away. This was a Custom Deluxe...even better than my first! As before, I sat and had tea with Tony and his wife Ann. Lovely people. They told funny stories about Ron Wood and Ronnie Laine...The Two Ronnies they called them. Ann said she and Tony always watch out for Zemaitis players appearing on TV, and had recently seen me on Top of The Pops. I felt so honoured…like part of the extended family.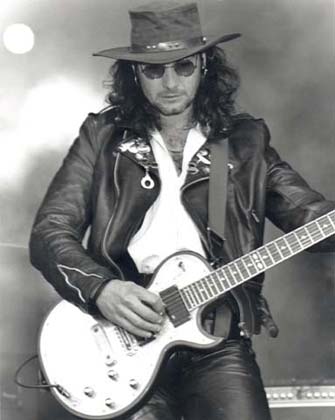 Of course, as years went by, and with the sad passing of Tony, my Z became more and more valuable. It got to the point where I was increasingly nervous to take it out of the case, for fear of accidentally damaging it in a moment of sheer clumsiness. So there came a time when I needed a new #1 guitar, and after deliberating over the options, I concluded that the only thing I'd ever be happy with was another Zemaitis Metal Front. After reading and researching the new Zemaitis Company, I was very excited to take delivery of a MF501.
From the moment I opened the case I could tell this instrument had been made to the highest standard. The appearance was flawless...begging to be picked up, like great guitars do. I pulled the strings up to tension and discovered just how good this thing was. After a week in transit half way around the world, the intonation and action were, what I can only describe as, perfect.
It is by no means any discredit to Tony Z to say that the Zemaitis Company have taken his original design to a new level. His inspired, artistic creations truly benefit from the application of modern precision manufacturing. All the attention to detail is there...and then some. Tony set an extremely high standard, for which the new company have clearly the greatest respect.
I love my original Z for its craftsmanship, artistry, and its history. I love the little hand-tooled nuances which are apparent on close inspection. It's toured the world with me and is like an old friend. On the other hand, I love my new Z because it's probably the best guitar I've played...and there have been many.